We Are Here To Help
WE ARE HERE TO HELP
We're staying open to help. Whatever you may need. Eddy's Chevrolet Cadillac will remain open to help with our customers' needs. During these times we want our involvement to be way more than just your automotive needs.
We're here for you, Wichita! Our focus today at work is not about selling cars, but giving back to our community. That will continue today, tomorrow and for the unforeseeable future. How can we help YOU? Whatever you need. Families, First Responders, and especially those juggling new circumstances – Do not hesitate to reach out.
Need your groceries picked up? We're here for you.
Need a ride to the Dr.? Not a challenge.
Need your medicine picked up from the Pharmacy? We're here for you.
Need your kids entertained for 30 minutes while you just have a moment to breathe? We can help.
We're here to help YOU any way that we can. Please call us at
(316) 689-4310.
COVID – 19 Precautions at Eddy's Chevrolet Cadillac > Staff
You won't see us shaking hands, high-fiving, or fist bumping. We're practicing social-distancing and a no-touch environment. Every hour on the hour a bell is rung to remind our staff it's time to wash-up and and disinfect their surroundings. We're here to serve those that keep our community going. If you're an essential worker, we're here to keep you going at Eddy's Chevrolet Cadillac.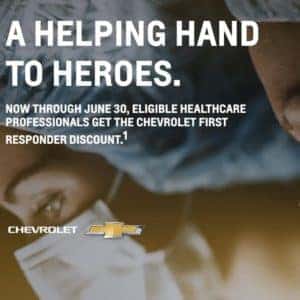 > Complimentary Interior Vehicle Sanitization
No appointment is necessary! Every vehicle that comes into our service department receives two complimentary interior disinfectant and sanitization treatments. Once upon arrival and once upon receipt of your vehicle after services are rendered before you leave. Even if you are not servicing your vehicle with us feel free to pull into our service drive and we will sanitize your interior for absolutely free!
> Pick Up & Delivery of Scheduled Service Maintenance
We would be glad to pick your vehicle up from your home or office, service is it, and deliver it back to you upon completion.
< At Home Test Drive
We'll Deliver the Test Drive to you! Are you on a busy schedule as an essential employee or juggling new circumstances? We're here to help. Whatever you need!
< At Home Trade-In Appraisal
We'll come to you to value your trade-in.
> Online Purchase Process
Shop confidently and comfortable from wherever you are! We're here to help! From trade-in appraisal to picking your payments and warranties, the entire process is available online and over the phone. Save time and don't come to the dealership!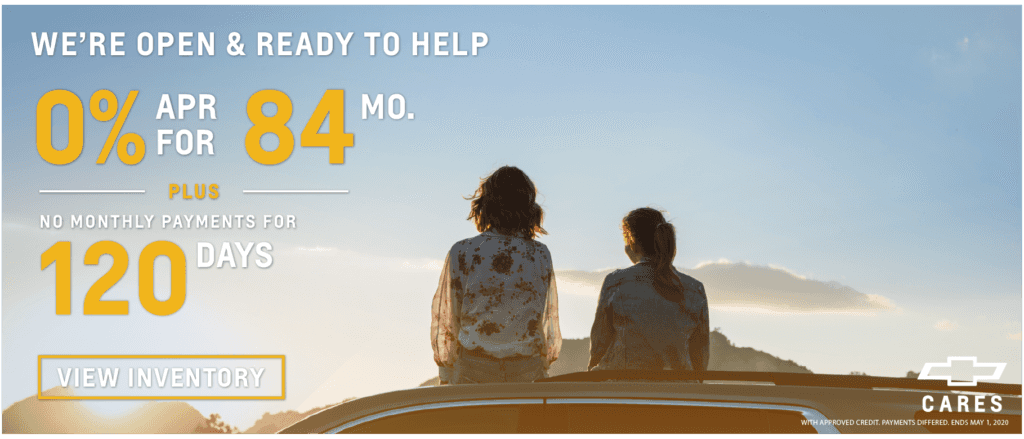 At Eddy's Chevrolet Cadillac we pride ourselves in helping our community. If you or a family member is needing anything at all please don't hesitate to reach out. We're here to help at Eddy's Chevrolet Cadillac. Also, during this time if we can be of any assistance to you or your family with service or purchasing your next Chevrolet or Cadillac, we are paying out of our pocket to double the manufacturer rebate for First Responders, Military, and applicable Kansas Essential Workers. If you have any questions please don't hesitate to contact us at 316-689-4310.
Eddy's Kansas Essential Worker Program
First and foremost, thank you. Thank you for your dedication to the safety and health of our community. We are here to help you any way that we can. Do you need your groceries or medication picked up? We're here for you. We're also offering a complimentary DAILY sanitization of your vehicle. We're here for you- 100% Free to you in our service drive.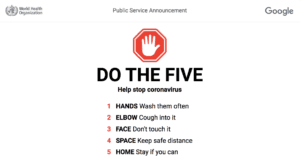 To Our Valued Guests,
The health and well-being of you and your family, our team members, and our community remains our top priority. As we continue to navigate through this complex situation, we feel it is our responsibility to update you as news arises. We're here to help any way that we can.
As of now we have not had any cases of COVID-19 on our campus or with our team members or guests and our thoughts and prayers go out to those affected by this global crisis.
On March 23rd, The Sedgwick County Commission voted 3 to 2 to pass a Shelter-In-Place ordinance. This is an attempt to limit public interaction to just essential personnel to help slow the spread of the virus in our community. Many businesses and occupations would be exempt from the shelter-in-place that are deemed essential.
Companies like Spirit AeroSystems, Textron and NIAR because of their defense-contract work would be exempt. Also, businesses deemed essential businesses like grocery stores, gas stations, media outlets, medical facilities, daycare facilities and auto shops. Restaurants that provide takeout and delivery services are allowed to remain open, but would have to shut down their dining areas.
So why is an automotive dealer deemed essential?
The recent "shelter-in-place" order deems that essential services, such as auto repairs and service, be kept open. This means our service, parts and collision operations will remain open to serve our guests at this crucial time. To promote social distancing, we will be moving to a Service "Drop Off" model and will be asking our guests to leave their vehicles with us rather than wait in our guest lounges. Our service professionals will continue using rubber gloves, sanitizing wipes, and steering wheel covers to handle your vehicle.
Guests wishing to shop from home can utilize our online purchasing programs or call us directly at 316-689-4310.
We will continue to monitor developments from local, state, and federal authorities and will adjust as necessary to any new information we receive. To reiterate, our goal is to protect you, our team members, and our community.
The situation with COVID-19 is evolving rapidly and we will continue to communicate with you frequently and continue to keep the health, safety, and well-being of our team members and guests our first priority.
We appreciate your loyalty to Eddy's Chevrolet Cadillac. We will continue to be here for you, just like we always have.
Sincerely,
Matt Smiley
General Manager
316-689-4310